We want to highlight our fantastic team and help you get to know them. Check out two of our pharmacists who are helping to serve our patients and homes with great customer service, dedication, clinical knowledge, in addition to being assets to our team at ETPS!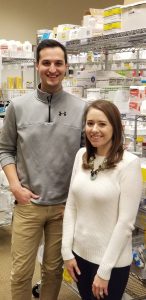 Stephanie Hudson, RPh
Why did you become a pharmacist?  I'm a Knoxville native and graduate from the University of Tennessee with a Bachelor of Science in Business Administration. I have a degree in marketing with a collateral certificate in Logistics. After graduating in 2007, I worked in the customer service industry for one year. Once I realized my passion for helping others, I decided to pursue a career in pharmacy to fulfill the passion I had for helping people in a more significant way. I graduated from the University of Tennessee College of Pharmacy in 2018 with my doctorate in pharmacy. My greatest achievement has been my perseverance to succeed in my goal of becoming a pharmacist as this journey has taken me six years to complete.
What is your favorite thing about ETPS?   Guardian Pharmacy is the third largest long-term care pharmacy in the United States. I had a desire to work for a growing company that conducts business according to the Golden Rule of treating each other and its customers fairly and honestly. I realized early in my career that I am motivated by serving others. I desire to make a positive difference in the lives of others. I am blessed to serve daily as an advocate for my long-term care patients regarding safe medication use, appropriate drug therapy, unnecessary medications, cost saving factors and more.
Family life: what is your favorite pastime when you're not working?  I come from a close-knit family with two older sisters. I am happily married to my high-school sweetheart, Taylor who shares my love for UT football, outdoor adventures, traveling, and our Great Pyrenees, Lola.

Tanner Redden, RPh
Why did you become a pharmacist?  I decided I wanted to be a pharmacist at a very young age, around 12 or 13 years old. I excelled at and enjoyed Math and Science throughout middle and high school. Once I started working at an independent pharmacy in my hometown during high school, it confirmed that it was something I truly enjoyed. I really appreciated the fact that the pharmacist was the front line of all healthcare providers when it came to the patient and their needs/questions. My first few years in the pharmacy solidified my decision to make this a lifetime career.
What is your favorite thing about ETPS? My favorite thing about ETPS is that our location is such a tight-knit family who always stick their neck out for each other to ensure the job gets done. I also appreciate that our location does everything they can to ensure the patient and facility are always accommodated for.
Family Life: what is your favorite pastime when you're not working?  When I'm not working, I am enjoying every second I can with my wife and my 9-month-old son, Sebastian. I also enjoy cooking. I would probably own my own food truck if I wasn't a pharmacist!