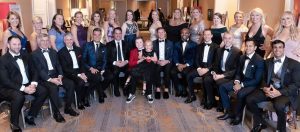 If Allison Davis is not in her office at Guardian Pharmacy Services, you can find her running on a different path that's equally as important to her life and career. She has combined her love for running to help raise money for the Leukemia and Lymphoma Society (LLS), the world's largest nonprofit dedicated to curing blood cancers. This started as a hobby with Leukemia & Lymphoma Society's Team in Training, the world's largest charity endurance training program where she raised funds through half-marathons. Later, Allison's passion morphed into becoming one of 30 representatives for the 2019 Leukemia and Lymphoma Society's Atlanta Man & Woman of the Year (MWOY) campaign. Allison was chosen from over 350 candidates for this 10-week campaign after being nominated by a friend who knew she could have a great impact fundraising for the cause.
Over the course of 10 weeks, Allison led a team of five people who ultimately raised $29,000 for LLS! Overall, the Atlanta MWOY class of 2019 was able to raise an incredible $2.4 million, greatly exceeding their goal of $1.6 million. The funds raised through LLS's MWOY are used for research to advance targeted therapies and immunotherapies, blood cancer information, education and support for patients, and policies that ensure patients have access to blood cancer treatments.
Through this incredible journey, Allison not only inspired others but enjoyed expanding her network in the Atlanta area and creating life-long friendships with the other 2019 candidates in the 2019 class – all while working towards a great cause.
Though the campaign has ended, Allison's involvement with LLS is just beginning. She plans to volunteer as a mentor to future MWOY candidates and explore additional leadership opportunities at LLS.
Guardian Pharmacy Services is extremely proud of Allison and the part she plays in the Atlanta community.